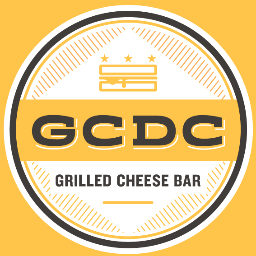 A Grilled Cheese Bar?! Seriously? Those were my exact thoughts when I heard about this venue coming to the District.
Initially, I was just curious to see how this would actually come together.  I mean, there's only so much you can do with a grilled cheese sandwich. Or, so I thought once I saw the menu! GCDC Grilled Cheese Bar is totally here guys and they have six signature grilled sandwiches that made me say "yum" — plus a create your own option. Get creative!
I was invited to attend one of their soft launches prior to the grand opening on April 11, 2014. The entire menu was 50% off – yes, please!  I was aiming for dinner but was kinda bummed out that their full line up of grilled cheese sandwiches are not available for dinner.  So, my GCDC experience is still incomplete (will update later after I go there for lunch).
But any who, let me walk you through the two hours I spent there:
First, I walked in and just stood there for about five minutes because the ambiance and decor just threw me off.  I was kinda expecting a nicer Subway or Potbelly vibe, and it was more like the Ritz Carlton of sandwich shops. Ok, maybe not, but close.  In my notes I wrote, "sleek, posh and modern"  "great for girls night" "great for a date" or "A meet up with friends" "great for just drinks at the bar although it's not incredibly long."  The place isn't really big but perhaps big enough for its purpose I guess.
Dinner is all about the wine and cheese plate. No question.  I attended solo but I recommend going with a group so that you can sample different things and get a better experience.
I ordered their "5 for $28" cheese plate to which you can choose from the following "types" of cheeses or add-ons: Fresh and Soft-Ripened, Washed, Aged, Blue, Charcuterie.  Each plate comes with a custom condiment pairing per cheese and crackers.
My choices were: Fresh Robiola (paired with lemon curd), Cabra La Mancha (paired with baby pickles), Cabot Clothbound Cheddar (paired with chili jam -AMAZING!!), Beaufort (paired with orange peel), and Blue Paradise (paired with chocolate ganache).
My favorite pairings were the Robiola and Lemon Curd with a graham cracker and Cabot Clothbound Cheddar with chili jam. Did I mention the chili jam was good?
The Blue Paradise was not good with the ganache but with a plain cracker it was OK.
Also, what's really neat is that each category of cheese also lists a suggested wine or beverage compliment. So no guessing if you're really a newbie to the cheese thing like I.
Although I'm weird and tend to be a creature of comfort (need to stop that)— so I didn't take their suggestion – and let's just say that Cabernet Sauvignon does not go with every type of cheese. Yuck! But I just kept saying- OMG how much of a drunk would I be to have five different wines or beers per cheese! Exactly why going with a group is my recommendation LOL.
So anyways, while waiting for my cheese plate I started with my old faithful, The Lemon Drop (sugar rim).  I ordered the Cabernet once my cheese arrived and I also ordered one of their specialty cocktails called The Eggcream Cocktail; not a fan honestly.  It reminded me of a White Russian which is why I ordered it but they use club soda and it just did not taste good at all.
After my disagreement with the Eggcream cocktail that I didn't drink, I went with water for the rest of the night.  But before wrapping up, I said why not to dessert.  I'm a chocolate fanatic yet none of the options were chocolate  pickings – 😦  So I went for something I don't really eat – bread pudding.  In one word: DELISH!
It was highly enjoyable and indulgent – I did not lick my spoon but I did clean the plate. Whoops!
And that friends is kinda it.
Overall, my experience really really cool.  I even got to meet the owner.  Of course I asked what made him start a grilled cheese restaurant? What was his inspiration?  To which he said that he was a former lawyer for 35 years and after having an awesome grilled cheese in California, he decided to follow through with it, change gears and so GCDC was born. That really made my day! Kudos to him.
GCDC: 1730 Pennsylvania Ave. NW, Washington, DC 20006
Again, I think lunch is a more consistent time to go to get the "grilled cheese experience"  like The French Onion, The Mediterranean or The Kim-Cheese Steak. However, dinner is where you want to go to unwind and hang out with me 🙂 OR your real friends, I can share.
Let me know if you go!
Xx
Bloom!
Oh, here are some pics I took of what I ordered.  Yes, I'm that girl that takes pics of everything she eats including those I'm dining with.  And sidebar, they serve the cheeses on this stone plate – I meant to ask if there was a particular reason why.